NEWS LETTER V.20081
Make it connected! Easy air quality management, Total Organic Compounds (tVOC) real-time recorder UA50 connected to your smartphone. The new sensor data transmitter RN171 plus with the cover has been released. Leave the temperature management of remote and numerous containers to RN400-T2EX.
Refrigerated/frozen container,
from temperature control to door open notification with RN400-T2EX
Temperature/power failure/door open detection, check it in real-time anywhere.
If a problem arises, we will immediately call the representative to notify you.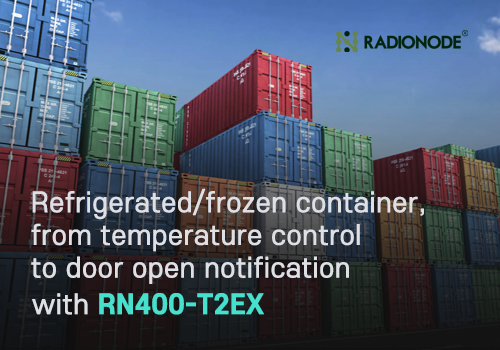 The Ministry of Maritime Affairs and Fisheries designated the "Cold Chain Specialized Zone in the hinterland of Incheon New Port" in June. It is expected that a 57.18-acre freezer/refrigeration specialized zone will be created and a new cargo of 80,000 TEU per year will be created.
How to manage numerous and remote refrigerated/freezer containers? Not only the temperature but also whether the door is well closed or not will be a control point. By attaching the Radionode RN400-T2EX, there is no need to worry about the refrigeration of external containers in a heat wave. ▲ Temperature recording ▲ Emergency notification ▲ Power failure/door open notification ▲ Warning light control and other services are provided. Multilingual alarm service is provided by phone / text / email to the person in charge registered for each site. It can be fixed with screws or attached with a magnet, so it can be installed without expensive construction.
It is not difficult to build a large-scale refrigerated/freezer container temperature remote monitoring. Solve it with RN400-T2EX, which enables real-time monitoring with a PC in the office or a smartphone outside.
Make your smartphone the best monitoring device.
Easy-to-use, real-time air quality(tVOC) recorder UA50!
Android connection OK, laptop connection OK,
Measurement data CSV sharing OK
Have you ever had a headache in the office? Air quality, what did you manage? Here are sensors that detect odors from solvents commonly used in industry, organic gases emitted from chemical/pharmaceutical plants, nearby paint and painting facilities, laundry rooms, gas stations, and even mold.
Radionode UA50 measures the total organic compounds (tVOC, 0 ~ 60ppm) referring to these substances. Since it is a USB type sensor, measurement starts immediately when you connect it to the smartphone using the C type gender / USB extension cable included at the time of purchase. A Swiss sensor with fast reaction speed is installed to check the VOC concentration in real-time. You can also check data trends (graphs) and share data with Tapaculo Mobile, a free dedicated monitoring app (Android).
Indoor air quality management! Measuring carbon dioxide is no longer enough. The UA50, which can manage VOC and CO2 at the same time, is easy to carry and can be purchased online such as Wismax, Chanju Tech, and Device mart.
* Click the company name to go to the purchase page.
New RN171plus sensor data transmitter(Ethernet/WiFi)
Supports various data transmission methods, data backup when network is disconnected
Clear LED display even in the daytime, added cover for sensor protection
How do you manage your site far from your office? Need to monitor your overseas factories in real-time? Would you like to provide alarms in your own language to workers of various nationalities?
All of the above requirements are solved by simply adding the Radionode RN171 plus. The same thing as the existing model RN171 ▲ Supports various data transmission methods (HTTP, TELNET, MODBUS) ▲ Out-of-range phone/text alarm transmission ▲ Built-in alarm buzzer for field workers ▲ Q Light network warning light interlocking function.
The improvement over the previous model is ▲ 4 digits that simplify the device registration process, iCODE screen display ▲ Clear direct light LED screen even in the daytime ▲ Cover for UA sensor protection is provided. Even when covered, it only uses the same area as the previous model. Attaching the enclosed label will tell you what you are managing from a distance. For environmental monitoring, use the RN171 plus with improved user convenience.
RADIONODE® is a sensor data monitoring device. Tapaculo®365 web services provide a variety of features for integrated management of sensor information in the cloud.
RADIONODE® and Tapaculo® are manufactured by DEKIST Co., Ltd. Are registered trademarks of RADIONODE products and software were developed by DEKIST Co., Ltd.