NEWSLETTER V.19021
Make it connected! Try using a Radionode at the SMT site where temperature and humidity management directly affect productivity. Real-time gas remote monitoring, as well as warmth, was realized at a reasonable cost. Do you want to take care of the scene comfortably? The most evolved connected data logger, Radionode, invites you to the Automation World 2019 (Smart Factory + Automation Industry Exhibition) in March.
Do you want to achieve a zero defect rate at the SMT site?
Temperature and humidity, now monitor them remotely
Not only call alert by out of range of setting,
You can receive an automatically created report in an e-mail.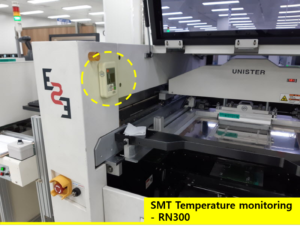 Temperature control in the SMT(SMD) industry is a critical process, therefore, some automotive companies manage partner companies with standard temperature and humidity certificate system. For example, temperature and humidity have significant effects on minimizing defect rates and improving quality levels, from the time when solder paste is brought in and managed to the PCB to the precision of application of solder paste to the PCB, to the location of the defect rate and to the correct location.
Monitoring temperature and humidity inside of screen printer where solder paste is directly applying on and reflow oven which managing with high temperature are important that monitoring makes the quality better and not only increase product yield but also to prevent equipment disable and to extend the life cycle of equipment.
You can easily manage temperature and humidity with Radionode which un-regularly managing devices and equipment. RN17x COMBO product package will set up on LAN and Wifi network environment on site, and RN001 COMBO product package is suitable for securing its own wireless network.
Radionode makes your systematic management on site smarter and remotely monitoring everywhere just where radionode is. It will alert to you when the sensor value is unnormal and will ring the siren. Also radionode send you a report for your sensors by the time such as daily, weekly, monthly.
Just sign-in!

Monitoring anywhere, anytime with Tapaculo
RADIONODE UA 5X Series measurement gases : O2, CO2, NH3, H2S, …
The Radionode UA family, a sensor that output data to USB, is increasingly inquiring about UA5X, gas sensor lines. Like the existing UA family, the UA5X transmits measured sensor data over the USB connection and is recognized as a Serial COM port, which allows control and calibration via AT commands.
UA family is a USB type sensor, it can be used by simply plugging it into a USB port without any installation work, maintenance cost such as calibration progress is minimized, and sensor replacement is very easy.
With RN17x, data transmitters, UA5X can be transmitted through the HTTP method, so UA can be continuously supplied to the software solution provider such as MES/ERP.
Tapaculo365, the cloud-based SaaS monitoring software, will manage your site efficiently through smart devices from Radionode products with web access Including PCs and Smartphones environments. Don't waste your time for setting up a server room, Just  Sign-in.
UA5X Gases Sensors
ㅇ UA50: tVOC
ㅇ UA51: CO2, temperature
ㅇ UA52: O2, atmospheric pressure, temperature
ㅇ UA54: (Released in 2019) Toxics gases such as Ammonia and CO2.
RN17X Features
ㅇ Automated IP allocation
ㅇ Transmit/Serup data by HTTP
ㅇ Transfer/setup data by TELNET
ㅇ Support for linking Tpaculo365 services
ㅇ Qlight network light lamp
Radionode is welcome you to visit us.
Automation World 2019(Seoul, Korea)
A Hall, 1-H100 Dekist CO., LTD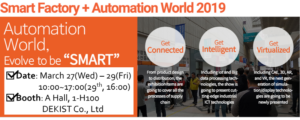 Temperature, humidity, oxygen, CO2, NH3, H2S etc, what are you monitoring now? Do you still fill out the measured sensor values on the paper?
If anything seems to be a problem, Tapaculo calls your representative immediately. Also, send an e-mail to the report before your days start.
Do not save data on papers or excel, save them on Cloud to keeping your data safe and secured.
RADIONODE® is a specialized terminal for monitoring sensor data. Various functions are provided through the Tapaculo®365 web service to enable integrated management of sensor information in the cloud.
RADIONODE® and Tapaculo® have registered trademarks of DEKIST CO., LTD. Radionode products and software were developed by Dekist.